Blue Sky/Dee Howard EAA Air Academy Scholarship 2022 Awarded to Sophie Garza
Congratulations to Sophie Garza for receiving the Blue Sky Educational Foundation/Dee Howard Scholarship to attend the 2022 EAA Air Academy Advanced Camp during EAA AirVenture. The Camp runs from July 29, 2022 to August 6, 2022.
We wish Sophie the best experience at the EAA Air Academy Camp and we look forward to providing more opportunities for tomorrow's aviators.
Sophie's notification letter reads:
6 March 2022

Blue Sky/Dee Howard EAA Air Academy Scholarship 2022

 

Congratulations to Sophie Garza for receiving the Blue Sky Educational Foundation/Dee Howard Scholarship to attend the 2022 EAA Air Academy Advanced Camp during EAA AirVenture. The Camp runs from July 29, 2022 to August 6, 2022.

The scholarship includes all registration fees, accommodations, and meals. Dr. Siudzinski will email you your paid flight arrangements from San Antonio to Appleton, Wisconsin, and return with United Airlines. You will need to have a photo ID (Drivers License or school ID) Your family will be responsible for luggage fees to/from Appleton. Total $60.

You will be picked up and returned to the airport in Wisconsin by the Air Academy. Your parents will be responsible for taking you to and from the San Antonio Airport. You will be receiving necessary paperwork from the EAA Air Academy to be completed when received from Mr. Scott Cameron, EAA Air Academy Director.

Dr. Siudzinski looks forward to seeing you in Oshkosh. If you or your parents have any questions, he can be reached at (920) 203 2334 or This email address is being protected from spambots. You need JavaScript enabled to view it.

This scholarship is jointly administered by the Blue Sky Educational Foundation/the Dee Howard International Education Foundation, and The Dee Howard Foundation with support from Judson Independent School District.

Regards,

 

Wayne Fagan
Chair
Dee Howard International Education Foundation
www.dhedf.org

Christina Martinez
Executive Director
The Dee Howard Foundation
www.deehoward.org

Dr. Lee J. Siudzinski
Executive DIrector
Blue Sy Educational Foundation
www.blueskyfoundation.org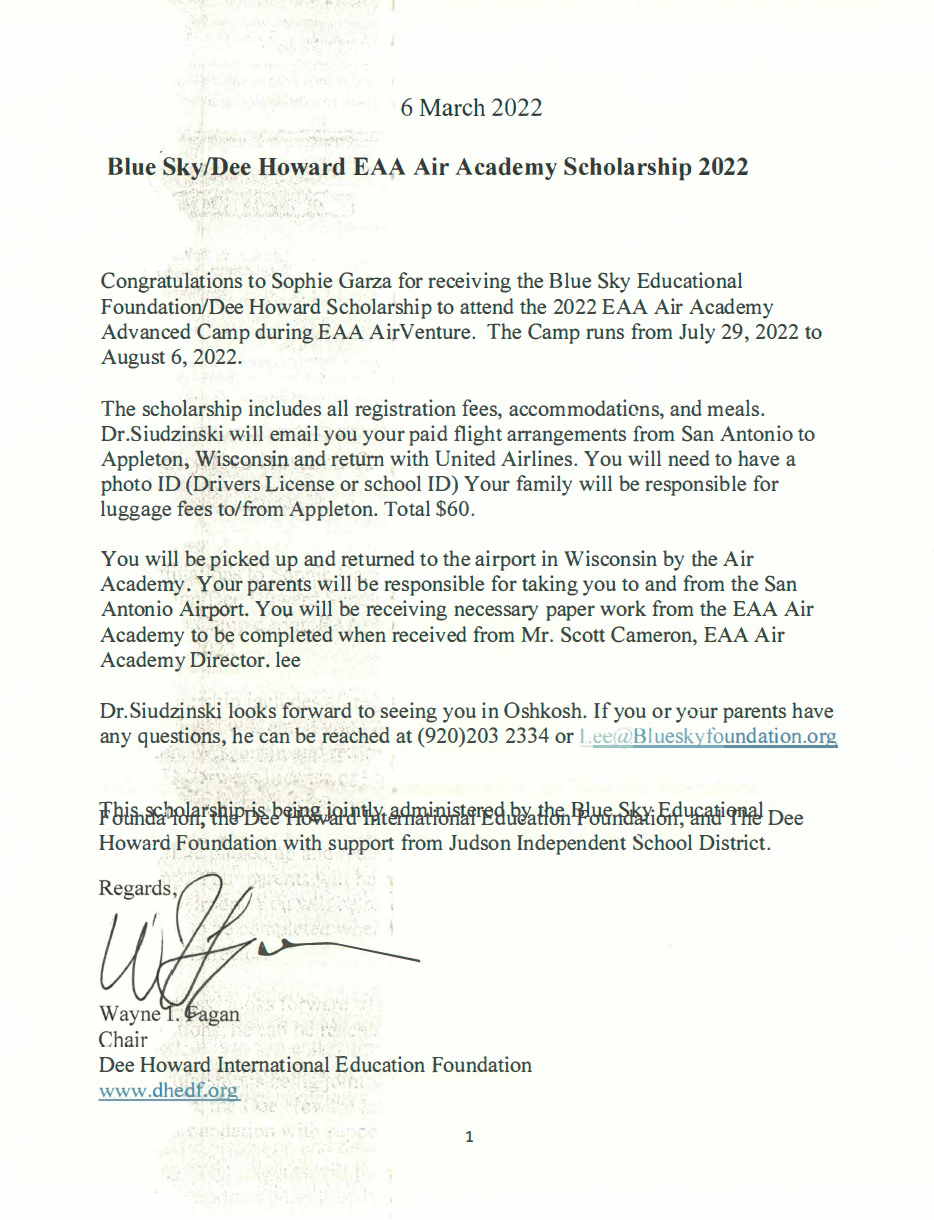 ---
Related News